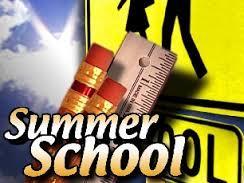 Summer School Information for Kinder thru 8th Grades!
Alma Valenzuela
Tuesday, May 17, 2022
Kindergarten thru 8th Grade Parents: If you would like for your child to attend Summer School from May 31st-June 23rd, please sign up your child at their school office before 3:00 p.m. on Friday, May 20th.
Summer School Sites:
Sarah Marley Elementary: Kindergarten, 1st grade, & 2nd grade
Clawson Elementary: 3rd grade, 4th grade, & 5th grade
Paul Huber Middle School: 6th grade, 7th grade, & 8th grade
Dates:
Week 1: Tuesday, May 31st- Friday, June 3rd (Tuesday – Friday)
Week 2: Monday, June 6th- Thursday, June 9th (Monday – Thursday)
Week 3: Monday, June 13th - Thursday, June 16th (Monday – Thursday)
Week 4: Monday, June 20th - Thursday, June 23rd (Monday - Thursday)
Transportation:
Classes will begin promptly at 8:00 a.m. and will be dismissed at 12:00 p.m.
Free breakfast will be served from 7:30 – 7:55 a.m.
Free lunch will also be served daily.
Transportation will be provided for students (see below)

If your child's homeschool is Faras, Joe Carlson, or Ray Borane MS, transportation will be made available to and from your child's designated summer school site.

Homeschool Pickup at Faras, Joe Carlson, and Ray Borane MS is 7:25 AM.
For those students who currently receive transportation, those services will be provided during summer school.